This is a good plan to see a lot of Kyoto's autumn leaves in one day.
You can enjoy day and night time autumn leaves, wild monkeys, a bit of hiking, an old temple, and a Japanese garden, all in one trip!
About Arashiyama
Arashiyama (嵐山, Storm Mountain) is a district on the western outskirts of Kyoto, Japan. It also refers to the mountain across the Ōi River, which forms a backdrop to the district. Arashiyama is a nationally designated Historic Site and Place of Scenic Beauty.[1]

https://en.wikipedia.org/wiki/Arashiyama
Map, Acess to Arashiyama
Map around Arashiyama.
Please click the red marks on the google map to see the details.
There are three stations around Arashiyama.
JR line
Hankyu line
Keifuku line
You will easily reach Arashiyama wherever your hotel is.
Arashiyama Autumn Leaves Photos
Arashiyama Monkey Park Iwatayama
Opening hours
9am to 4:30pm, Mar. 5 to Sep. 30.
9am to 4:00pm, Oct. 1 to Mar. 14.
Entrance fee (Jul. 2019)
550yen, adult (older than high school student)
250yen, child (younger than junior high school)
About 120 wild monkeys are living in the park.
To see the monkeys, you have to walk up about 20min.
The mountain on the photo is Atagoyama, a nice day-hike.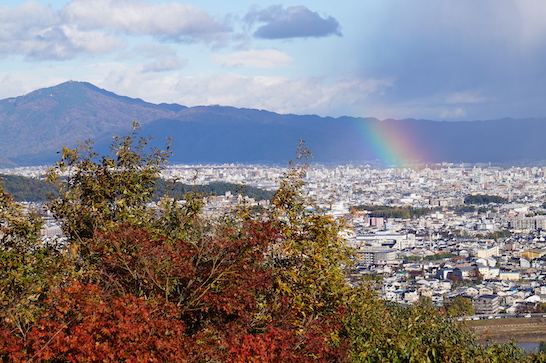 Autumn leaves on Atagoyama mountain.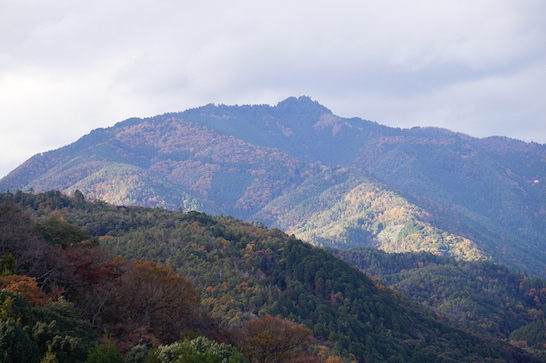 Wild monkeys.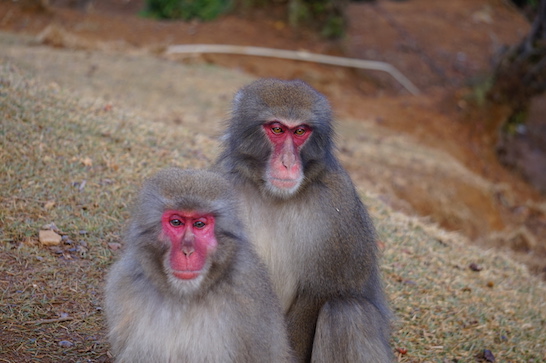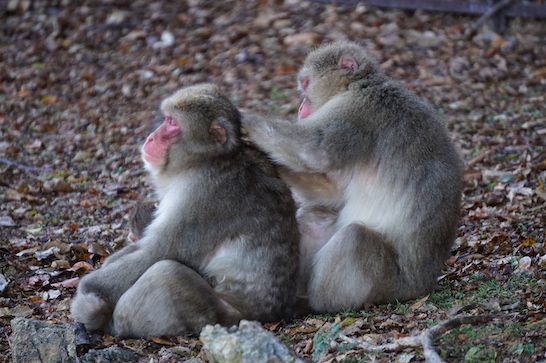 Happy baby monkey with mom.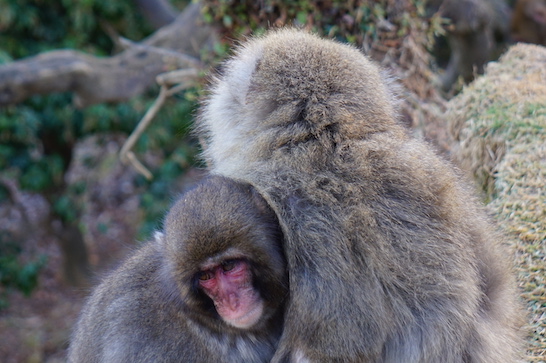 Not so happy lonely baby monkey…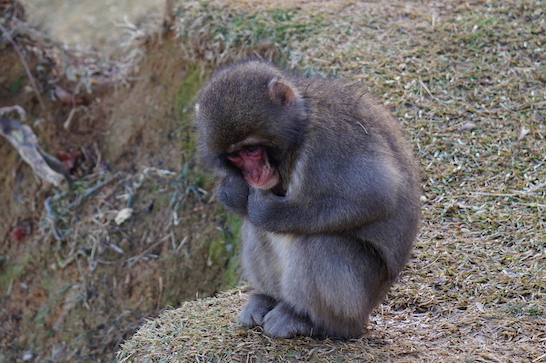 Sweet wild monkeys.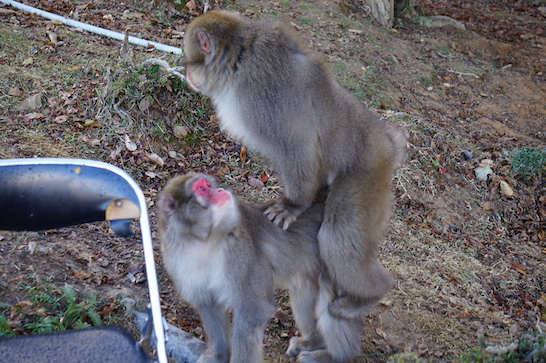 Not so sweet wild monkeys…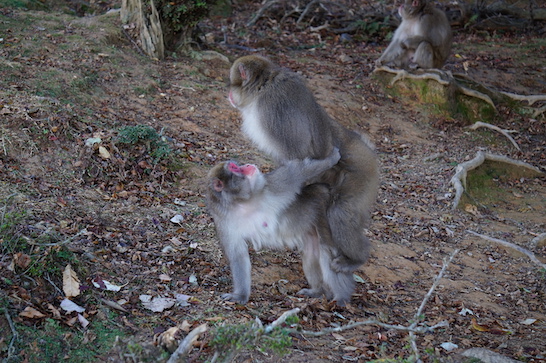 Autumn leaves in Arashiyama monkey park.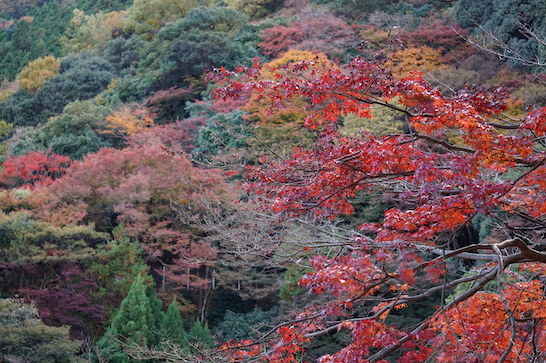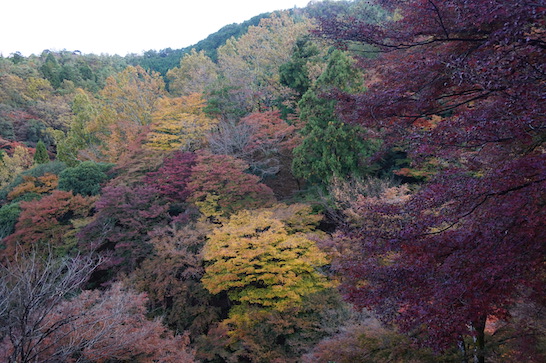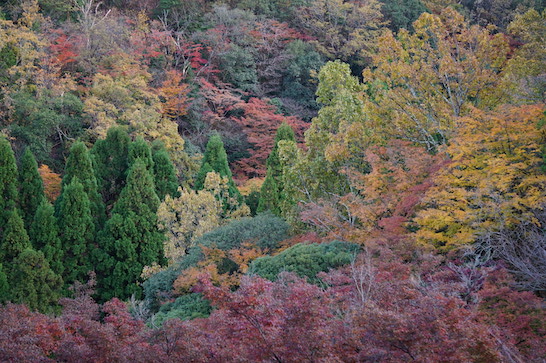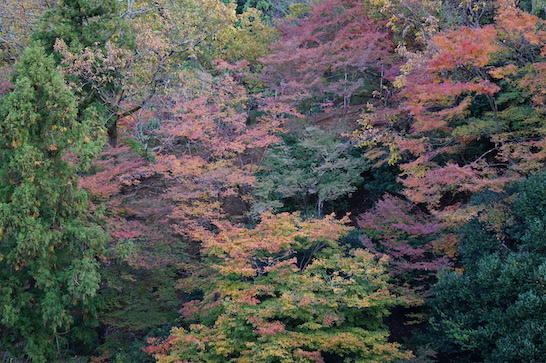 Nisonin Temple
The Nisonin Temple has been famous for its beautiful autumn leaves for 1,200 years.
Opening hours: 9am to 4:30pm
Entrance fee (Jul. 2019)
500yen, adult (older than junior high school student)
0yen, child (younger elementary high school)
300yen, adult groupe (more than 30 persons)
The automn leaves of the main gate are often shown on Japanese TV.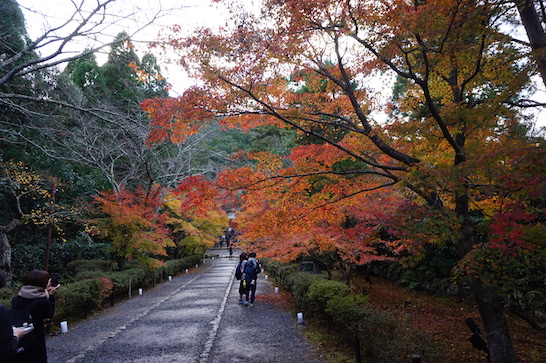 Gate only for the imperial messenger.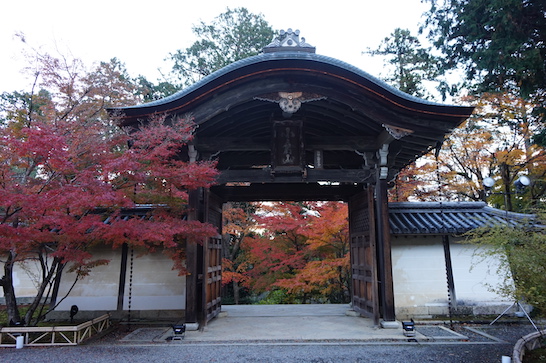 The main hall of Nisonin Temple.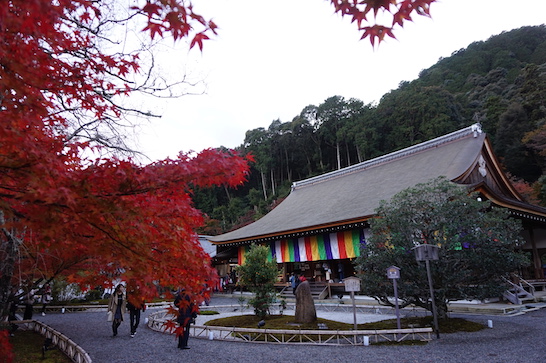 Black gate.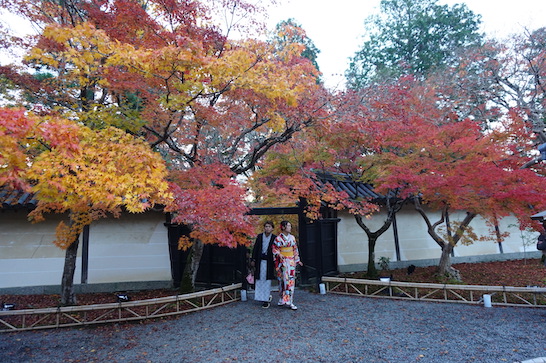 Bell of happiness.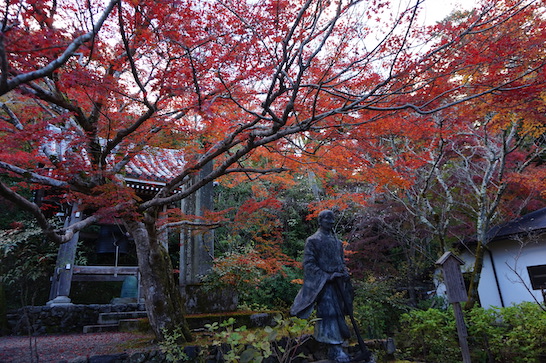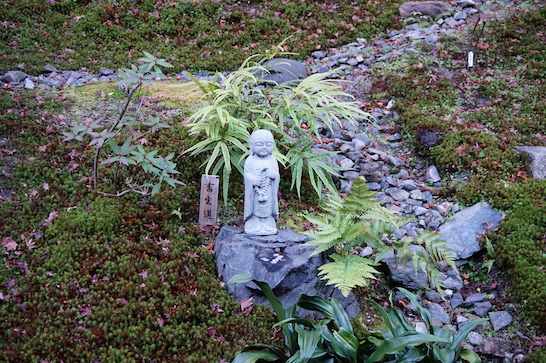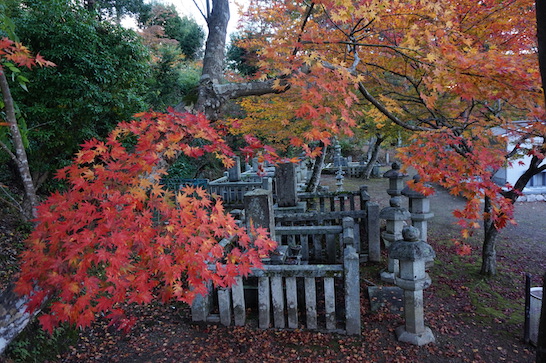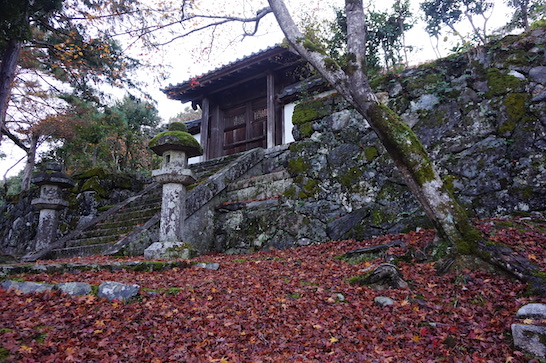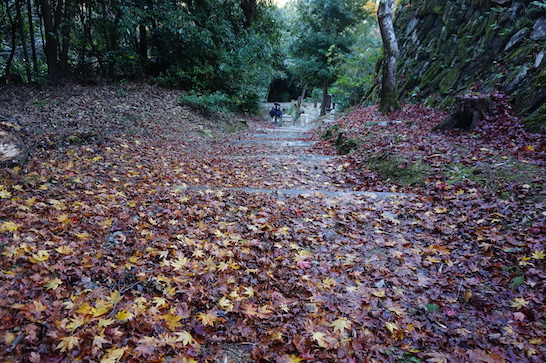 Hōgon-in Temple Autumn leaves Light Up
The Hōgon-in temple is famous for its Japanese garden.
You can go inside the Hōgon-in Temple only during the autumn leaves season.
The opening days (and nights) change every year depending on when the autumn leaves get their colours.
Light up autumn leaves in Hōgon-in temple.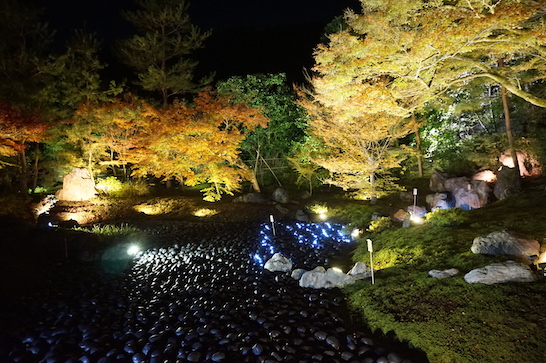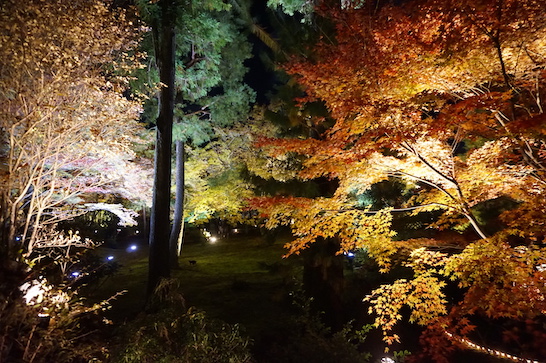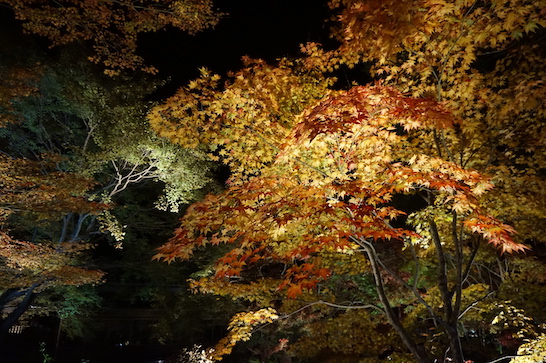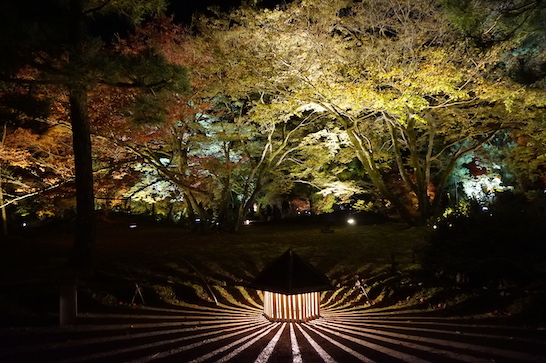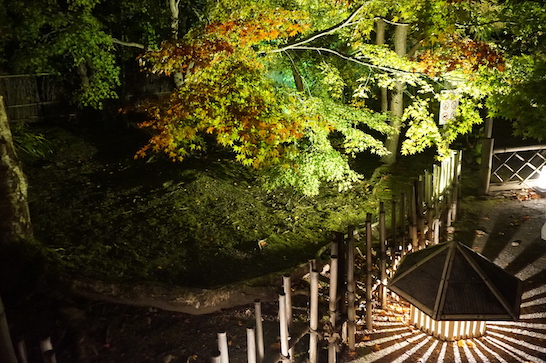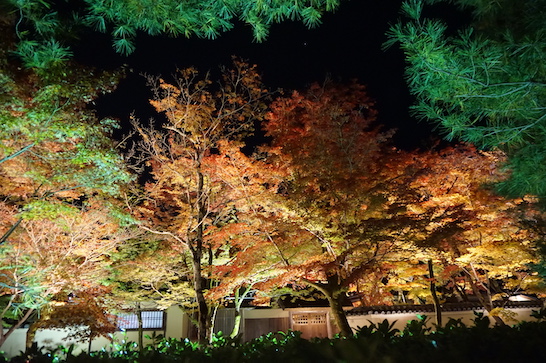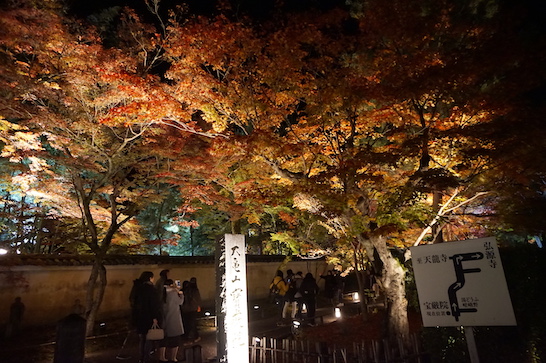 Summary
We stayed 6 hours in Arashiyama this day, from 1pm to 7pm.
There are many famous spots around Arashiyama, you could spend even more time if you wanted.
Let's enjoy Japanese autumn leaves and lovely monkeys!